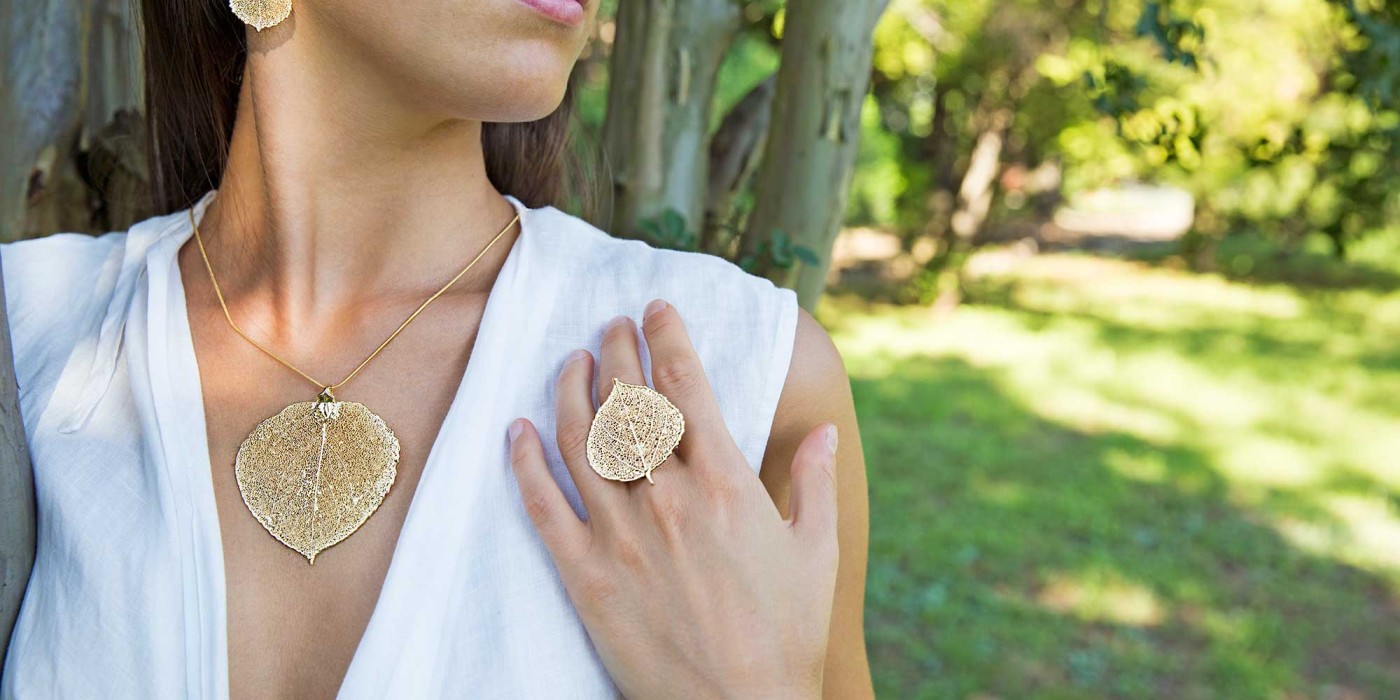 Natural, precious and everlasting
---
A fine jewellery collection which immortalizes the generosity of nature through time, with simplicity and charm.
Our manufacturing process takes several weeks. It begins with the seasonal harvest of the leaves. Once selected, they are immersed in galvanic baths and solidified. Immortalized in their natural beauty, they become rose gold, yellow or rhodium silver jewels, unique and unrepeatable; in essence natural.
"The beauty of Ester Bijoux jewels is the uniqueness of each leaf, seed or flower. Combined with light components, they feature a delicate design for a minimalist, fashionable and youthful style. Ester Bijoux is proud of its choice to make their handcrafted products entirely in Italy, under strict European safety standards. We have solid roots, with a long experience in the jewellery market. But we also look to the future, offering new collections every year, in step with fashion trends and always respecting the environment".
Paolo Porrati, CEO of the EsterBijoux company
Ester Bijoux Fashion Show
Ester Bijoux, the Italian jewelery brand, launches its new online e-commerce platform at he MILANO NATURAL JEWELS fashion show. Held during the fashion week in Milan, the models wear the most recent collection. An event dedicated to nature, elegance and fashion in harmony with the environment.
Make your memory precious
If you have keepsakes such as leaves, seeds, shells, stones ,milk teeth etc that you want to embellish and turn into a goldplated pendant, favour or ornament, please contact us for a quote! We can consider your request and will do our best to fulfill your wishes. The maximum dimensions of the item must be 20x20cm and weigh not more than 500g.
Our story
Ester Bijoux is an Italian artisan company founded in 1990 when Ester Miramonti had the idea of ​​transforming her love for nature into an innovative product. The Ester Bijoux headquarters is located in Ticino Park in northern Italy, a Unesco heritage site characterized by a great variety of tree species. In recent years, Ester Bijoux has built a solid reputation in the jewellery market both in Italy and around the world. In the 2000s the company witnessed substantial growth and it was during this period that Ester's son Paolo joined the company as CEO. Since 2016, Ester's daughter, Serena has been collaborating as creative director and as main supplier of leaves and fruits, bringing new ideas and expanding the original collection thanks to her own farm.
The basis of our jewellery is leaves, seeds, and flowers. Firstly they are covered with a thin layer of copper. They are then plated with precious metals: 24 kt gold, rose gold (an alloy of gold, silver and copper) or rhodium-plated silver (galvanic process that doesn't darken and maintains its brilliance unaltered). As these are natural-based and non-metallic jewellery, the plating can become dull or can discolour over time. This can occur with cosmetics, perfumes, detergents and alcohol as they attack the chrome and accelerate the oxidation of metals. Even acid or sweating can alter the colour of the jewellery. We recommend that you always keep the jewellery away from sources of direct light and protect it from dust when not worn. To clean we recommend using a clean, soft cloth. If your jewellery becomes opaque or darkened and you want to restore it to its original lustre, Ester Bijoux offers a professional cleaning, re-gilding or re-silvering service.
Check the validity of your warranty or contact us by mail or phone to know the conditions.